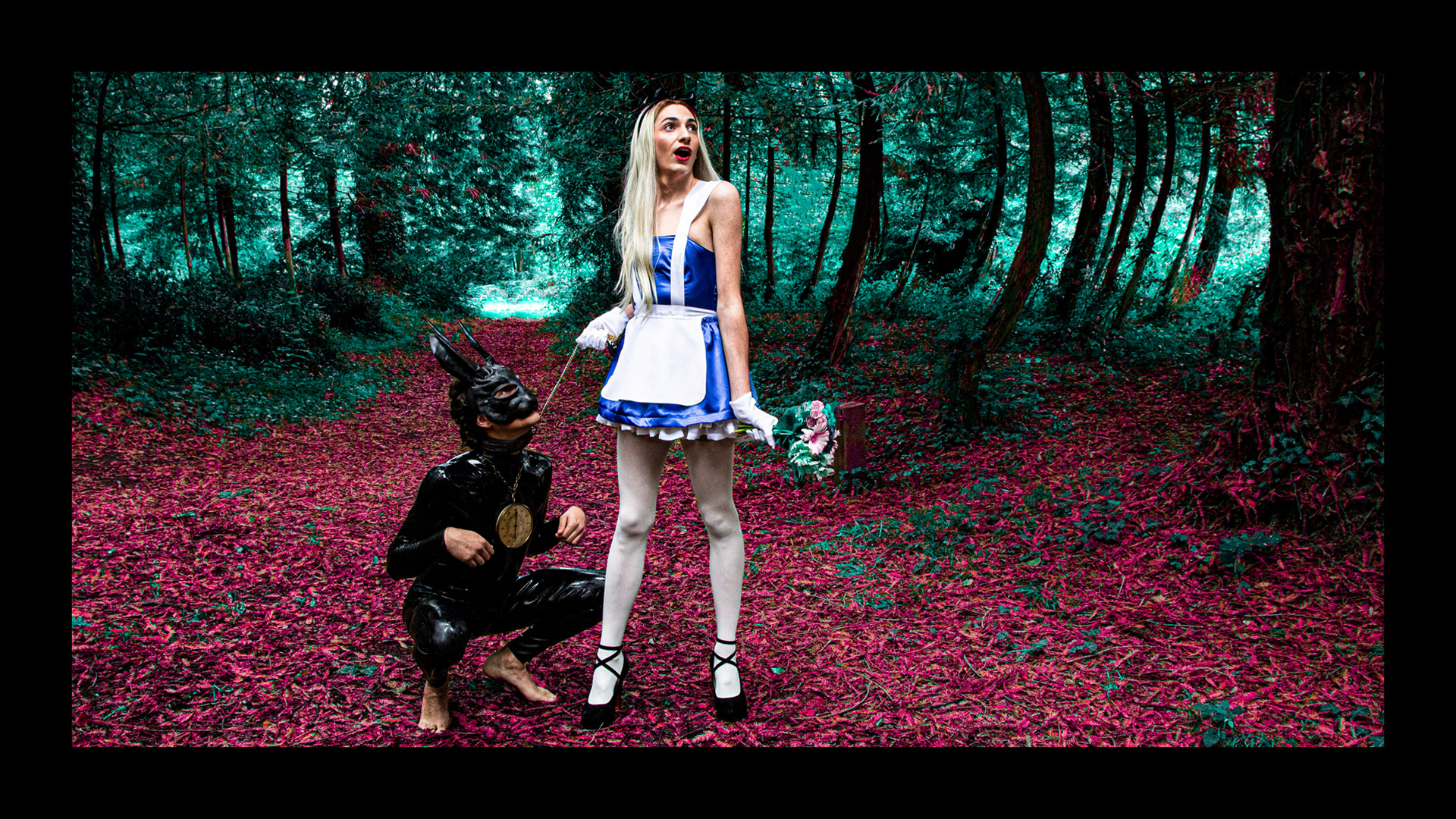 NYE 2020 • Wonderland • 00h-12h
The New Year's Eve at Macadam is a very special 12 hour event lead by Androgyne.
Costumes, scenography, videography and important DJs are gathered to create a unique adventure to celebrate the new year.
More than a party, it is a total immersion into a thematic world : a psychedelic and deviant WONDERLAND.
Le Nouvel An à Macadam est imaginé par Androgyne comme un évènement singulier et total de 12 heures, associant costumerie, scénographie, VJing et la venue d'artistes DJ importants dans le parcours du collectif jusqu'à aujourd'hui. Plus qu'une fête, c'est une immersion pleine dans un monde imaginaire qui vous est proposé ce soir là, dans l'univers psychédélique et deviant de notre Pays des Merveilles. 

WONDERLAND
Le Pays des Rêves éveillés,
Là où les ténèbres sont lumières.
Derrière chaque porte,
Un précipice vers de nouveaux mondes.
---
SCENOGRAPHY & VIDEOGRAPHY

Macadam presents its psychedelic face, created by Jabali Decoration, Man of Time and Androgyne.
Nantes based architects and visual designers YAPA take control of the videography and creative an immersive wonderland.
Macadam sous son versant psychédélique, entièrement revisité par les scénographes Jabali Décoration et Man of Time.
Le collectif d'architectes nantais YAPA se charge du VJing et mapping immersifs.
◊
DRESSCODE
This is a dress-up party: please bring your own unique outfit to engage in our WONDERLAND.
Fête costumée dans le grand thème WONDERLAND, libre d'interprétation.
◊
CIRCUS PERFORMANCES & PARADES
During the entire night, from 2am until 7am.
Tout au long de la nuit (de 02h à 07h)

AERIAL FABRIC TISSU AERIEN
by Nina Migeon
SUSPENSIONS
by Nina Migeon and Lisa Massol
STILTS ÉCHASSES
by Lisa Massol
JUGGLING JONGLERIES
by Pich
PARADES DÉFILÉS
Baba Creation will create costumes inspired from Alice in Wonderland for 9 characters.
Le costumier Baba Création crée sur mesure 9 personnages inspiré d'Alice qui défileront ensemble dans la nuit. 
◊

DJs • LINE-UP

SOMEWHEN
Berlin (Germany)
Signed by Ostgut Ton
Founder of the label SANA
PARAMIDA
Berlin (Germany)
Founder of the label Love On The Rocks
MOODY

Paris (France)
Founder and resident DJ for LUNACY.
GTI

Nantes (France)
Resident DJ for Androgyne.
Co-founder of North Rave Connexion crew in Lille.
TICKETS / BILLETTERIE

TICKET SALES AT THE DOOR STARTS AT 2AM > 25€
(50% of the tickets will be sold at the door)
Performances are scheduled from 02AM to 7AM.

BILLETTERIE SUR PLACE à partir de 2 heures du matin > 25€
(50% des places sont en vente le soir même à Macadam).
Le programme des performances circassiennes et des défilés sera réparti entre 02h et 07h du matin.
◊
>> Priority Tickets on Resident Advisor (SOLD OUT) ensure access to Macadam from 00:00 (doors opening) to 02:00 AM.
From midnight to 02AM only Priority Ticket owners will enter Macadam.
Click here to buy Priority Tickets > https://www.residentadvisor.net/events/1350782
>> Les Priority Tickets en vente sur Resident Advisor (SOLD OUT) garantissent l'accès à Macadam de 00h à 2 heures du matin.
De minuit à 2h, seuls les détenteurs de Priority Tickets pourront entrer dans le club.
Après 2h, les tickets ne donnent plus la priorité aux détenteurs.
INFOS
No photos, no videos allowed
Please bring your ID
Photographies et vidéos interdites
Carte d'identité obligatoire
CREDITS
Cover picture > Artwork by Ex Luisa (Androgyne)
Costumes by Baba Création
Models Simon Longin and Thibaud Tressel